Youth Advisors in Bulgaria develop photo exhibition to raise awareness about the need to speak out about sexual violence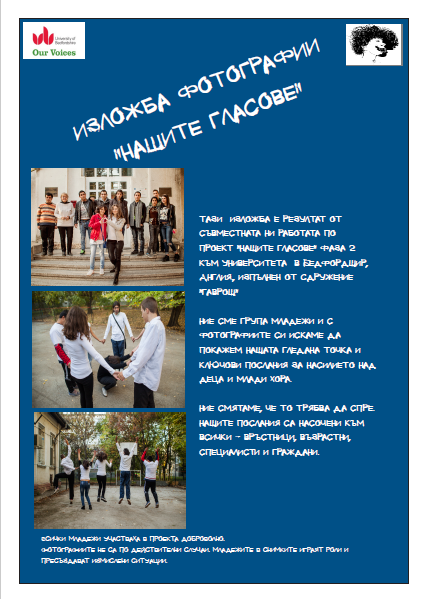 In 2015 the 'Our Voices' project secured a small amount of funds to help groups of young people who had been involved in the 'Our Voices' consultations who wanted to take part in a short project. One group of young people in Varna, Bulgaria decided that they would like to develop a photography exhibition to share messages about sexual violence in their local community.
As part of the 'Our Voices' project a number of children and young people took part in consultation workshops in 2014 to help the project team understand the views and perspectives of young people in different situations and countries in Europe.
As part of the consultation process, those who participated were asked how they felt young people could get involved in sexual violence prevention efforts. The Youth Advisors came up with lots of ideas and it was clear that many of the young people involved wanted to start 'doing' rather than 'talking' about what young people could do. One group of young people, in Varna, Bulgaria, supported by the organisation Gavroche, came together again in October 2015. Three of the young men had been part of the consultations the year before and another nine young people also joined this first meeting.
This is what the group had to say about their project.
"At first there were about 10-12 young people who came together, most were being cared for in state protected homes or were living without any support. Some of us came from mainstream schools and were living with our families. For all of us, at the beginning we worried as we didn't know each other. We didn't have a group name, but we all had a clear idea that we wanted to help the victims of sexual violence.
Most of the time we didn't talk, but we listened and learnt more about what sexual violence is and what the group did during the consultation workshops that were held in 2014. That way the ice melted and as we became braver we started sharing our ideas. We talked about how to express our points of view through photography.
We knew that we wanted to help the victims. We wanted more people to understand how they feel. That's why we chose the subject of the photos, which show loneliness and the tears. Even the shy ones in the group joined the conversation. We wrote every idea down.
In November we were at a more advanced phase. At this point there were about 8-9 of us at the meetings and we started to take photos as we continued to learn. This was very interesting and fun – everyone was a photographer and an actor in a lead role. We changed so everyone could try and we laughed a lot. It was very nice to be together and we got to know each other well. We made a Facebook group so we can communicate with each other and discuss what we did and what we are going to do.
Near the end of the project we chose photos for our photo exhibition and matched them with appropriate messages. While we were writing the key messages we learned how to write in a graffiti style.
We came up with a poster too. We hope that the people who will see our work will understand that the violence is a problem that affects everyone in the whole world – big and small. It has to stop!"