Marginal Gains Poster: Small steps that make a big difference for improving police responses to CSE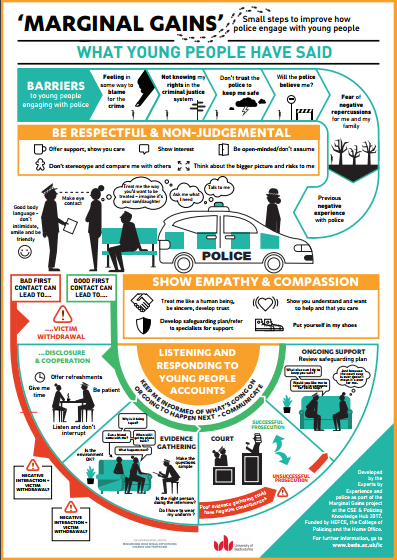 This blog post was originally published on the University of Bedfordshire's International Centre Blog.
"The police are there to keep us safe, not to manipulate or intimidate us. Respect me and I'll respect you" *

Since 2015, staff in 'The International Centre' have been running the CSE and Policing Knowledge Hub, with the aim of enhancing police responses to child sexual exploitation (CSE), other forms of sexual abuse and associated vulnerabilities in adolescence, through better use of research evidence and enhanced links between police and academics.
Early on in the project an initial strategic needs analysis found that police engagement with young people affected by CSE, other forms of CSA and related vulnerabilities was a key area where police needed support.
As a result the Hub established an 'Experts by Experience' (EBE) group. These are young people from across the country who have taken part in a range of activities for the last year looking at how the police can improve their safeguarding responses to young people. In October 2016, this work culminated in a residential in the Lake District, where some of the EBE came together with officers from across the country to create practical solutions to some of these challenges.
Since the residential, the EBE and police officers have been working together on a project called Marginal Gains. As part of the project the EBE and police co-developed resources for police, designed to enhance police engagement with young people and improve safeguarding responses.
The products include this poster for police officers, which outlines small steps the police can take that will make a big difference (i.e. marginal gains). The team launched the poster at three events in March 2017 to bring to an end their work for the Knowledge Hub includng an end of project conference, the Metropolitan Police conference for CSE awareness week and the National Working Group (NWG) annual conference.** The poster is being distributed to stations/custody suites. Please download, share and distribute to other colleagues.
* Beckett, H et. al. (2015) Children's Voices Research Report: Children and young people's perspectives on the police's role in safeguarding: a report for Her Majesty's Inspectorate of Constabularies. p.5.
**The Marginal Gains team have also created a film, which considers how police officers can support young people who require a safeguarding response, following their experiences of child sexual exploitation. The film will be available in the next few weeks.