New resource launched – comic postcards with 10 key principles of working with young people affected by CSE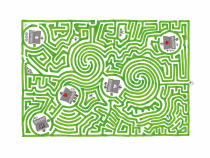 This blog post was originally published on the University of Bedfordshire's International Centre Blog.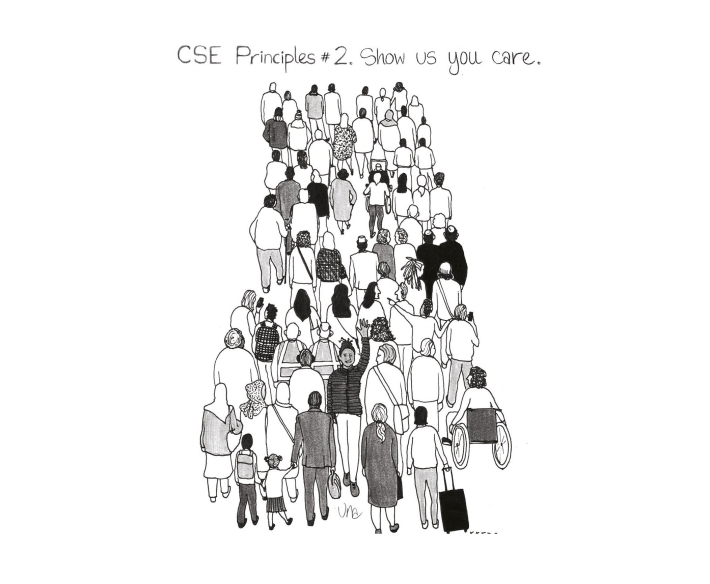 This week is the ESRC Festival of Social Sciences – an annual event that encourages social researchers to find creative ways to engage with new audiences. We've taken part in the festival twice before, a reflection of our commitment to getting our research messages out effectively. Previous events have always happened at the University of Bedfordshire, so yesterday we ventured a little further afield. A small group of researchers and young research advisers loaded up a tea-trolley with free tea, coffee and home-made cake, and made their way around the large open-plan offices of Hackney Children and Families Services.
We were launching a new resource – 10 comic postcards that each highlight a different principle of working with young people affected by CSE. As we worked our way around the office, we gave away sets of these postcards, along with short-bread, cookies and Isabelle Brodie's lemon drizzle cake (the clear favourite).
The postcards are one of the outputs of The Alexi Project, which had a strand of work focused on promoting the participation of children and young people in services responding to CSE. We synthesised information from The Alexi Project and 17 other research and participatory project into the 10 principles – consulting with our Young Researcher's Advisory Panel as we went.* In recent years, a series of research publications and public enquiries have revealed the impact of professionals' failure to identify and support young people who were being sexually exploited. However, our research shows that, alongside these failures, young people also highlight positive experiences that others can learn from.
The comic for Principle 5 ('Treat us with respect and give us choices') illustrates the experience of a young woman meeting her support worker.
"She's lovely, like the police gave her to me and when she came round the first time I was like, 'Right, there's a stranger in my house, I don't like it.'…I was kind of worried because I don't know what the police told her about my case, so I was kind of like, 'Right, I don't know what they've told her, like if they've told her something that's wrong I'm going to be annoyed.' So then when she got here she was like, 'You can tell me, you don't have to tell me, I don't mind.' So I was like, 'Right, I'm kind of shy but…'. But she's lovely. If I didn't have her to talk to I'd be ripping my hair out by now"
Young person, 'Children's Voices' (Beckett et al. 2015, p.38)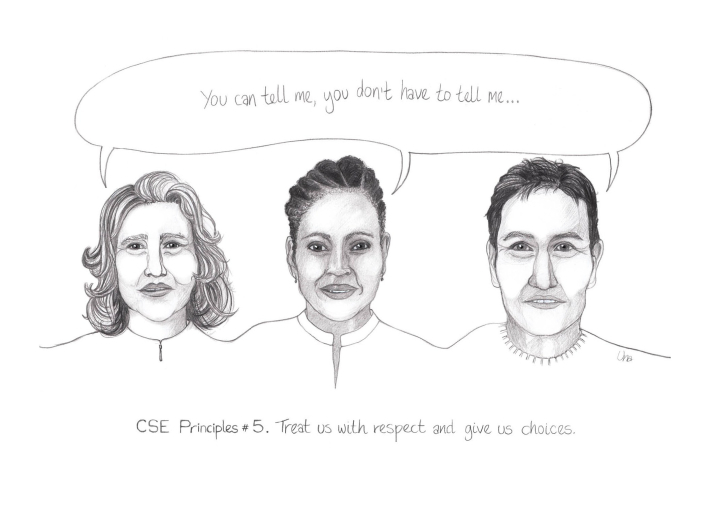 The postcard images were created by Una, who was commissioned by the International Centre to work alongside our Young Researcher's Advisory Panel to develop our 10 principles into a series of comic illustrations. Una is an artist, academic and comics creator, whose graphic novel Becoming Unbecoming deals with themes of victim blaming, misogyny and violence against women and girls. The principles themselves will be familiar to anyone working with children and young people, but we worked with Una because we recognised that images often bring young people's experiences to life in a more powerful way than text alone.
Feedback from the event was really positive. Perhaps unsurprisingly, free cake and coffee created some great opportunities for conversation between researchers, young people and practitioners. Lots of people took away a full set of postcards, with plans to discuss them with their teams, share them with young people or pass them on to other agencies. So thank you to Hackney Children and Families Services for allowing us to come and visit!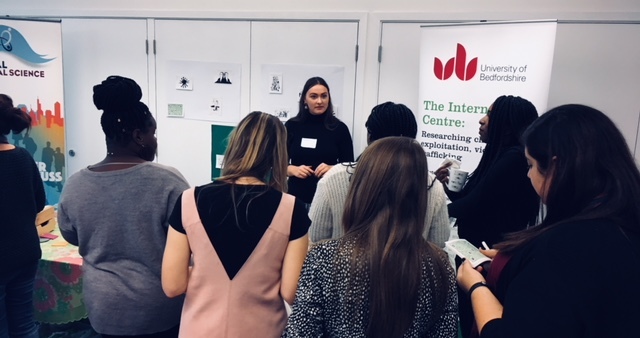 The ten principles are:
We want and need services
Show us you care
Give us time
Share information about us, and with us, in a responsible and sensitive way
Treat us with respect and give us choices
Offer us opportunities to develop as people
Give us a voice
Don't discriminate
Try and make sure we see and talk to the same person
Stay hopeful – change is possible
The full set of comics can be viewed at The Alexi Project website. Please do share the postcards with your teams, and other agencies you work with.
* We reviewed all research/participatory projects conducted by the International Centre since 2010 that had involved hearing directly from young people about their experiences of engaging with professionals.