Blog: An update on the Our Voices University Network: challenging sexual violence against children and youth (OVUN)

About the OVUN
The OVUN is a global network of multi-disciplinary researchers from universities and (I)NGOs. We are committed to ethical, child-centred research to improve identification, prevention and response efforts for children and young people affected by child sexual violence. The OVUN shares learning and builds global knowledge to improve evidence with and about children and young people affected by sexual violence. It aims to influence and improve related practice and policy across a range of disciplines.
The OVUN started with a pilot project in 2019, followed in 2020 with joint funding from Oak Foundation, End Violence Against Children, and The University of Bedfordshire. It is one of two strands of work taking place under the 'Our Voices III'blog). Our collaborative approach means that Our Voices III activities will be shaped and determined through engagement with network members and other stakeholders.
OVUN members
There are currently 126 professionals signed up to the OVUN from over 40 Universities, ten (I)NGOs and specialist research centres all over the world. Countries represented in the OVUN include America, Australia, Cyprus, Eswatini, Ethiopia, Germany, Greece, India, Ireland, Italy, Nigeria, Portugal, Serbia, South Africa, Switzerland, Thailand, The Netherlands, Uganda, Vietnam and Zimbabwe. Professors, researchers and PhD students will be working together across country borders.
Initial consultation with the OVUN members will inform the development of an interactive map on the Our Voices webpage to illustrate the geographical reach and profile of the network. We will also adopt a 'research in action' approach – sharing resources and active research activity through our webpages, blogs and newsletters.
Work of the OVUN will be topic driven. Each topic will be embedded in 'taskforce' activity which will be guided by the OVUN leadership team.
The OVUN leadership team
The OVUN work is being overseen by 13 of the 126 network members. The OVUN leadership team will work to an agreed transparent terms of reference. The composition of the leadership team will be reviewed on an annual basis throughout the three year project, allowing time to build sustainable working relationships alongside offering scope for appointment of new leadership team members.
Meet the current leadership team: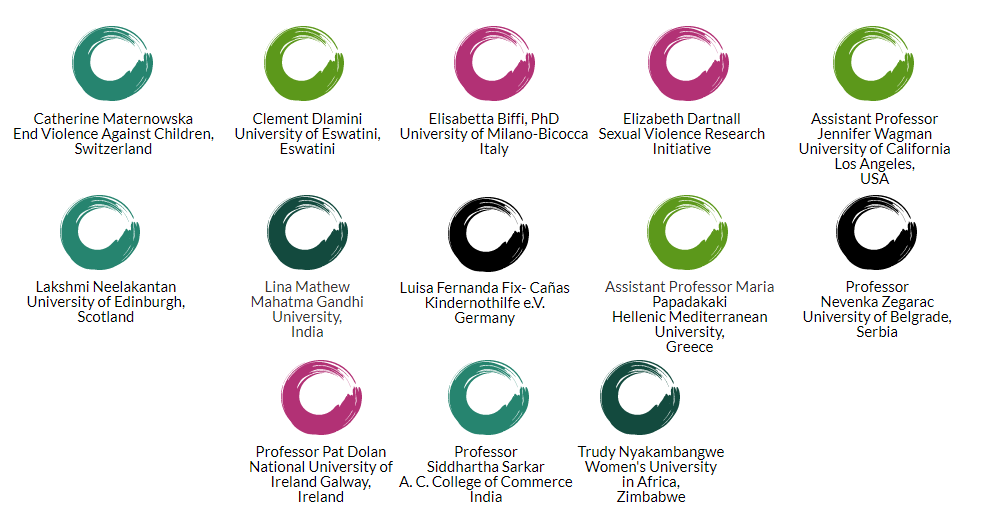 This current leadership team have backgrounds spanning a range of disciplines including social work and social policy, child and family research, human kinetics and sport, public and community health, education, and law. The research interests and expertise they bring to the OVUN include child protection and safeguarding systems, child and youth participation, children's rights, recovery after child sexual abuse, and national and international points of legislative convergence and disconnect in relation to child sexual violence.
They will play a key role in creating supportive, reflective communities for knowledge exchange across subject areas and country contexts. More specifically each member of the leadership team, together with researchers from the University of Bedfordshire, will be developing and supporting the activities of the specific taskforces. Taskforces are an agreed stream of work that leadership team members – with input from the wider network - will take forward.
The network is also working with the University of Bedfordshire's Young Researchers Advisory Panel (YRAP), based within the International Centre: researching child sexual exploitation, violence and trafficking. The YRAP will be commenting on the work plans and developments and we are looking at ways of increasing their role in this work. We are also exploring initial ideas of how to connect them to other youth research advisory groups across the network.
Current work activity
Following two leadership team meetings, we are now at the exciting stage of starting work on our first two taskforces:
Cultural competence: This taskforce will focus on understanding the cultural context for use of ethical guidelines, tools and models of working when engaging children and young people in research against sexual violence. It is interested in developing cultural competence in applying ethical, empathetic, and trauma-informed approaches to research and participation in this field. It also seeks to engage with questions about for example, sustainable approaches at local-levels, indigenous populations, and what can be learnt from other disciplines such as sport, business studies and tourism.
The significance of 'place': This taskforce will be addressing the significance and impact of 'location' and 'place' in relation to the prevention of and response to sexual violence of children and young people. It is interested in location and place in broad terms, considering specific physical buildings/spaces as well as contexts such as home, community, schools, different professional groups, and the online arena. It will look at the impact of environmental factors relevant to these different 'places'. It will also again seek to engage with questions about what can be learnt from other disciplines.
Leadership team members have all been assigned to one of these taskforces and will be meeting to agree a draft work plan with agreed outputs and desired outcomes. One of the first tasks for the taskforce members will be to see how they can engage the wider OVUN, so expect to see more information about these plans in our upcoming webinar as we'd really value your input.
Next steps and how you can get involved
Our next steps are to:
Develop the more concrete plans/activities of each taskforce that will support knowledge exchange, capture learning and promote ethical participatory child- centred research.
Develop our OVUN website so that the global map of OVUN members, resources, leadership and taskforce activities can be readily viewed and links between researchers around the world can be facilitated (look out for details on how you can share your details with us to get on the map!).
Follow up contact with yourselves so that we can further engage OVUN membership.
Explore current and future roles of the Young Researchers Advisory Panel
We are really keen to expand the OVUN and to ensure that it works for you! As mentioned in the newsletter, we are planning to run a webinar in April which all network members are invited to. This will be a chance to share and gather ideas about how you would like to be involved. Opportunities for involvement could be for example:
Being part of our quality control and ethical framework activity to ensure sharing of good and promising ethically sound research with and for children and young people.
Posting podcasts and blogs and sharing resources on the OVUN website.
Taking part in webinars and/or working with the leadership team to run short training events.
Collaborating on funding and publishing initiatives.
Offering ideas for future work to be considered by the OVUN.
Do keep an eye out for more information about this webinar!
If you would like to know more about the work of the OVUN or leadership team, please contact Claire Soares in the first instance at Claire.soares@beds.ac.uk